If you're ready to upgrade to some of the most efficient HVAC systems today, Cool Running Air has you covered. We're a Mitsubishi Electric Diamond Contractor, which means we're experts in ductless air conditioners and specialize in installations, repairs, replacements and maintenance. Let our team show you how ductless AC can transform the comfort of your living space.
Residential and Commercial Ductless AC Services
A ductless air conditioner uses the same basic cooling cycle as any other air conditioner. Refrigerant chemicals transfer heat in and out of the home as needed to maintain a comfortable temperature. However, the design of a ductless system leverages several technical refinements to deliver ultra-efficient cooling. We help home and small business owners maximize cooling efficiency with our ductless air conditioners.
To enhance your ductless unit's capabilities, we offer the Wave-M. This flexible ion-generating bar can treat indoor air quality in nearly any HVAC application. The air purifier provides the highest level of ionization energy in the most compact size available.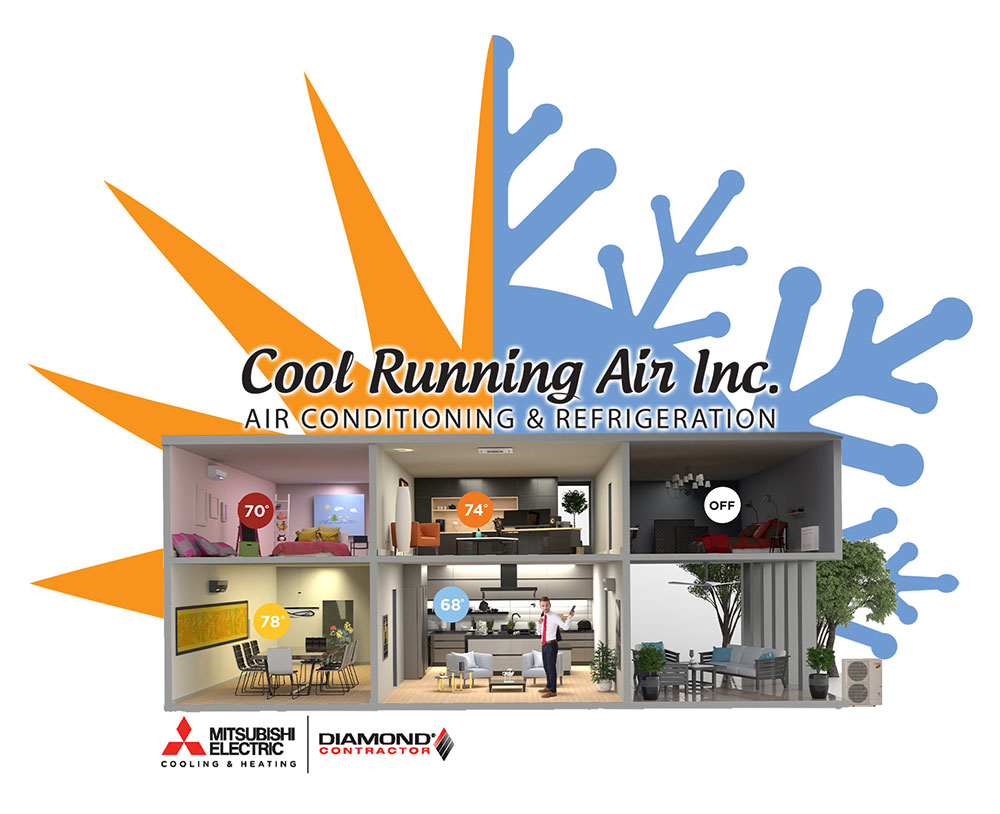 Benefits of a Ductless Mini-Split Installation
If you're serious about saving energy, you can't beat a ductless system. Since the air conditioner is one of the most significant users of power in most homes during the cooling season, you can dramatically reduce your electric bills, not to mention helping the environment by reducing your carbon footprint. Ductless air conditioners also deliver better overall comfort by maintaining a consistent temperature and reducing noise.
The system is 40% more efficient than a conventional air conditioner.
Personalized comfort means every member of your family can choose their personal temperature level.
You can use a mini-split ductless unit to supplement your current air conditioning system.
Mini-split ductless units are easy to install and look attractive with any décor.
Single- and multi-zone systems are available for any room in your home or commercial building.
Whisper quiet systems silently adjust to meet your cooling needs.
Individual wireless remote control to manage each wall unit.
Smartphone apps make it easy to manage and adjust your comfort.
Mini-split ductless units can be turned off when not in use to save energy.
Avoid the problems associated with aging ductwork like pollutants, dust, allergens and lost air due to leaky ducts.
Multi-stage filtration and washable filters provide cleaner air.
Constant comfort technology means your system automatically adjusts to maintain the optimal temperature.
Anytime, anywhere control with easy-to-use apps on practically any smartphone or tablet.
12-year manufacturer warranty for Diamond contractors.
Upgrading to Ductless AC With Cool Running Air
If you're ready to transition to a ductless system, you need an HVAC contractor with the specialized expertise required to get the job done. We have extensive experience installing and servicing ductless systems, and we've earned a strong reputation throughout these service areas for our customer service and technical excellence:
Boca Raton, FL.
Fort Lauderdale, FL.
Hialeah, FL.
Hollywood, FL.
Islamorada, FL.
Key Largo, FL.
Miami Beach, FL.
Miami, FL.
Palm Beach, FL.
Pompano Beach, FL.
Wellington, FL.
When you need a new ductless air conditioner or service for your existing system, it's not enough to have someone who can do it. We're happy to offer English- and Spanish-speaking ductless services to Miami-Dade, Broward and Palm Beach counties.
Ductless Mini Split in Hialeah FL | Ductless AC Repair
In Hialeah FL, adapting to the warm climate is vital, and ductless mini-split systems are the modern solution for maintaining a cool and comfortable indoor environment. Cool Running Air specializes in these versatile and efficient systems, which are ideal for the diverse range of properties in the area, from historic homes to contemporary office spaces. Our services are comprehensive, encompassing expert installation, diligent repair, and preventative maintenance.
The advantages of ductless mini-split systems are multifaceted, offering customizable cooling options with the added benefit of lower utility bills due to their high energy efficiency. They are particularly beneficial in situations where traditional ducted systems are unfeasible or too costly to install. At Cool Running Air, we ensure your ductless system is installed with the utmost care, tailored to your specific spatial and architectural requirements.
Our repair services are equally thorough, as we troubleshoot and resolve issues with precision, ensuring minimal disruption to your daily routine. We understand that a malfunctioning AC unit in the Hialeah heat can be more than just an inconvenience—it can disrupt your entire day. Therefore, our team is always ready to respond with the necessary expertise and tools to get your system up and running as quickly as possible.
Cool Running Air is Your Trusted Ductless Mini Split Service Company in Hialeah FL
Cool Running Air has established itself as a trusted name in Hialeah FL for ductless mini-split services. Our commitment to excellence is unwavering, as we provide personalized consultations to determine the most suitable ductless system for your needs, ensuring optimal cooling and comfort. Our technicians are not just skilled workers but also advisors who can recommend the most energy-efficient and cost-effective options for your property.
Our trusted reputation is derived from our dedication to delivering exceptional service and enduring solutions. We employ a proactive approach to repairs and maintenance, addressing potential issues before they escalate into major problems. This preventative strategy not only saves you time and money but also extends the lifespan of your mini-split system, ensuring it remains a reliable source of comfort for years to come.
Ductless Mini Split Services You Can Rely On
Dependable and efficient ductless mini-split services are the cornerstone of Cool Running Air's offerings in Hialeah FL. We are committed to providing services that residents and business owners can count on throughout the year, particularly during the sweltering summer months. Our expertise in the field allows us to handle the installation and maintenance of any ductless system with a level of precision and care that is unmatched.
Our comprehensive approach to service includes detailed assessments and customized maintenance plans, ensuring that every aspect of your ductless system is accounted for. We employ the latest in HVAC technology and techniques to deliver services that are not just reliable but also innovative. When you choose Cool Running Air, you're not just getting a service provider—you're getting a partner who is invested in your comfort and satisfaction.
With the additional content, the narrative now thoroughly details the ductless mini-split services provided by Cool Running Air, emphasizing the company's expertise, personalized service, and commitment to reliability. The professional and unique tone underscores the company's role as a leading provider of ductless AC solutions in Hialeah, FL.
Areas of Hialeah, FL We Serve:
33002, 33010, 33011, 33012, 33013, 33014, 33016, 33018, 33142, 33147
Find Us Here:
Business Information:
Cool Running Air
2125 W 76 Street, Hialeah, Fl 33016
786-661-3689